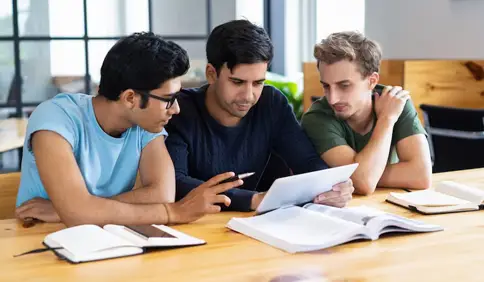 *Friday 7 April is a
national public holiday
so Term 1 will officially
end on Thursday
Last Date to Enrol (Re enrolling Students)
Last Date to Enrol (Re enrolling Students)
Last Date to Enrol (Re enrolling Students)
Last Date to Enrol (New Students)
Last Date to Enrol(Re enrolling Students)
Last Date to Enrol(New Students)
Last Date to Enrol (Re enrolling Students)
Welcome to the Higher Education Leadership Institute
Welcome to the Higher Education Leadership Institute (HELI)!
HELI is excited to welcome you to our college and we look forward to seeing you grow and develop throughout your study. Together we can ensure that you have an enjoyable and successful experience at HELI.
 HELI wishes you all the best and a heartfelt good luck as you commence your journey.
HELI's Orientation week is the week before classes commence. Orientation is an opportunity for you to learn about your requirements as a student, the support services HELI provides, and to connect with your Educators and classmates. Orientation provides all the information you need to prepare to commence your HELI course.
Orientation sessions will be delivered via online Zoom webinars, further information regarding Orientation and Enrolment will be sent to you via email.
HELI Student Services team will process your enrolment into each study period before the term commences. Students will receive an email advising enrolment has been completed and your subjects can be accesses via Canvas (HELI's Learning Management System).
Please check and update your contact telephone number/s and emergency contact details the first time you log into your Student Portal. Even if you have relocated to another address for a short period of time you must update your contact details with the Institute.​
It is the responsibility of all students to ensure HELI always has your current and correct contact information. Student visa holders MUST notify the Institute of any changes to your contact information within 7 days.
Refer to your COE and/or Offer Letter and Written Agreement for any enrolment conditions. Conditional offer documents are due at the end of Week 1 of the study period and must be submitted by 5:00pm (AEDT/AEST). Please send through all documents to [email protected]
If you have completed previous studies, you may be eligible for credit towards your course. Applications for Credit and required supporting evidence must be lodged by filling the Application for Credit for Prior Learning form found here https://www.heli.edu.au/info/ The application form must be submitted no less than ten (10) working days before the census date of a student's first study period at HELI. This is to allow time for the application to be assessed and any enrolment variations to be completed before the census date. For more information refer to HELI's Credit for Prior Learning Policy and Procedure.
Please Note: Students who have been awarded credit must accept the credit via their Letter of Offer. If a student has already accepted one offer, they will be issued a new offer which includes any relevant credit/RPL.
Students who have received Conditional RPL's must submit official transcripts relating to the subjects no later than 3 working days before census date of the students first study period for this credit to be applied as well as confirming acceptance of the credit outcome.
The Academic Integrity Module (AIM) provides students with information about their academic integrity responsibilities, the importance of proper acknowledgement and referencing, and how to avoid plagiarism and other types of academic misconduct. To successfully complete the module, students must complete the AIM quiz and achieve a score of 100%. Students may repeat the AIM and quiz as many times as needed until successfully completed.
All commencing students will be introduced to the AIM during Orientation. The AIM is accessible from the Dashboard of your Canvas account (HELI's Learning Management System).
Students studying in Australia need to have a Unique Student Identifier number or USI. From 1 January 2023, all higher education students, including international students studying in Australia, must have a USI to graduate and receive their award. Your USI is your individual Australian education identification number for life. You need a USI if you are:
an International student who is onshore in Australia and has a valid visa
a new or continuing domestic student
a student who has completed their studies and will graduate in 2023 (and beyond)
The process of applying is simple, the online tutorial video which is available here overviews the process. For further information about USI's please click here. Please apply for your USI using the link :  https://www.usi.gov.au/students/get-a-usi
Tip for students who have a single name: when you apply for your USI, insert a dash (-) in the first name field and enter your name in the last name field.
Once you have received your USI, you need to record your USI in your Student Portal.
HELI Student Services team will process your enrolment into each study period before the term commences. Students will receive an email advising enrolment has been completed and your subjects can be accesses via Canvas. Please ensure you log into Canvas and check you are enrolled in the relevant subjects for the new term, any changes need to be requested in week 1 of Term which will ensure you don't fall behind with your studies.
Students who have an outstanding fee balance from their previous study period will not be enrolled or view results if full payment has not been made. For those students who Student Services have been unable to enroll by Friday of week 1 due to outstanding fees risk cancellation of their enrolment. Please note that it can take up to 72 hours for payments to be processed by the relevant banks and to be enrolled.
HELI's Course Coordinator Dr. John Read and Subject Educators can help you with a range of enquiries, including advanced standing, subject selection and course progression. They can also issue you with a study plan that will map your progress from enrolment to course completion. If you require further advice regarding your course, you may contact the Course Coordinator at [email protected].
HELI's Academic Calendar is based on a term model, there are four (4) terms in one (1) academic year. Each Term is ten (10) weeks in duration.
10 weeks = 1 term
4 terms = 1 calendar year
The Academic Calendar provides start and end dates of each term including census and holiday periods.


*Friday 7 April is a
national public holiday
so Term 1 will officially
end on Thursday
Last Date to Enrol (Re enrolling Students)
Last Date to Enrol (Re enrolling Students)
Last Date to Enrol (Re enrolling Students)
Last Date to Enrol (New Students)
Last Date to Enrol(Re enrolling Students)
Last Date to Enrol(New Students)
Last Date to Enrol (Re enrolling Students)
Important information about your course can be located on HELI's website ( https://www.heli.edu.au/ ). You can also access your course related information by clicking the relevant course name below and gain an in-depth understanding about your course including the course structure which outlines the recommended order in which you should complete your subjects
Student Services assist students with all student administrative needs and can direct student enquiries to the appropriate staff or department for other enquiries. Student Services are available Monday to Friday from 9:00am – 5:00pm Australian Eastern Standard/Daylight Time (AEST/AEDT). Staff are not available on weekends and public holidays.
Fees for each study period can be paid in full by the end of week 1 of a study period, or paid in two instalments of 50% each – the first instalment of 50% is due at the end of week 1, the second instalment of 50% is due at the end of week 5 of a study period.
If you elect to pay your tuition fees electronically, you can do so by transferring money to HELI's bank account:
​Account Name: Higher Education Leadership Institute
Bank Name:  Westpac
BSB: 032833
Account Number: 494777
Swift Code: WPACAU2S
Please use your Student ID Number as the transaction reference or description and send your payment receipt/s to Student Services via email at [email protected]
Students are able to make payment via Credit Card or Debit Card via their Student Portal.
Login to your Student Portal using a computer, you need to allow a pop-up window to undertake the
transaction. The pop-up doesn't appear when a mobile phone or tablet is used.
Go to the "Payment" Tab in the Student Portal
Double Click on the "Pay Now" link to pay the invoice and allow the pop-up window
Enter the amount you would like to pay
Click on the Credit Card icon to continue
Enter Your Credit Card Details
Click on the button "Pay" to complete transaction
When making payment via your Student Portal it is recommended to use a computer as you will need to allow the pop up to enter your card information.
HELI's Library provides access to a variety of information resources and offers information skills training to support the varied learning and teaching activities of students. The Library offers access to a comprehensive range of online information resources including e-books, journals, newspapers and videos. 
HELI also has a physical library at the Melbourne campuses with resources including hard copies of prescribed texts.
Library staff are available to assist students with their library research. Library staff offer face-to-face and online training sessions and individual support to teach students how to use the library resources. The library staff can also assist with queries on library catalogue, copyright, referencing and academic integrity. Library staff work closely with teaching staff to provide in-class library training sessions and resources tailored to assessment tasks.
For library enquires or to request a consultation time with a member of HELI's Library Team, please send an email request using the library's contact email address: [email protected]
For more information about HELI's Library Services and support please visit the library page under the Student Hub section in Canvas.
Student Learning Support at HELI aims to improve the academic experience for all students by supporting and motivating you to do the best work you can and by developing skills for succeeding with your academic studies and improving your job-readiness. Our academic support is delivered via the following three main channels: online academic skills resources, individual and small group consultations, and in-class skill development.
We can help you with
Students are able to book individual or small group consultations with a Learning and Teaching Advisor for assistance with study-related issues and help with academic skills. For example, we can help you:
understand the requirements and format of different types of assessments, such as essays, case
studies and reports;
prepare a plan or outline for an upcoming assessment; review a draft assessment and discuss areas of strength and areas for improvement;
learn specific skills and develop strategies for paraphrasing, referencing, using linking words, reading academic texts, editing your work, and so on;
break down feedback you received on an assessment and work out a plan for improving your next assessment;
improve your time management; and
develop strategies for exam preparation.
​Consultations can be:
face-to-face on campus,
via phone or video conference (Zoom), or
via email.
​​For more information or to access this student service please contact the Student Learning Support team at [email protected].
All applications are processed in accordance with Government Policy, regulatory frameworks and HELI policy. To access any of the HELI Policies and forms please follow the link here https://www.heli.edu.au/policies/