⦁ What to focus on and why?
I started my journey in eLearning as a trained teacher specialising in educational technology. I was taught to be a 'good' teacher who can help schools and subject teachers to optimise "the theory and practice of design, development, ultilization, management and evaluation of processes and resources for learning"- The Association for Educational Communication & Technology ( AECT)' s definition of Instructional Technology in 1994.
In 2007, AECT revised the definition and added some key words to highlight technology–supported teaching and learning, such as research, ethical practice, facilitation, learning performance, and technological processes. It defines
"educational technology is the study and ethical practice of facilitating learning and improving performance by creating, using and managing appropriate technological processes and resources" (AECT's 2007 definition).
These keywords are familiar and relevant to people providing professional services or leadership in teaching and learning, learning design, educational technology implementation, digital transformation, online education production and management, regardless of learning context, K12, higher education, or corporate.
The definition from AECT's 2007 definition and the relevant commentary has been a small encyclopedia for many professionals in educational technology and instructional design. As an eLearning practitioner, it is essential to understand the study and ethical application of research and practices of planning and implementing and to evaluate the effective use of educational technologies. For instructors, it serves as a snapshot and authority of the professional field to aspire to.
In my professional and academic practices in the last decade, I was informed by the holistic view and integrative approaches in enhancing teaching and learning in the digital age. After a few years working in research, industry, and professional service in digital learning, I was able to bring my qualification knowledge, as emphasised in AECT's 2007 definition, to a Master of eLearning course and a Graduate Certificate of Higher Education Academic Practices course as a learning designer, subject developer, and educator.
The course architecture developed by my colleagues at HELI aligns with my understanding of eLearning's fundamental and requisite knowledge and skillsets. The subjects have a consistent learning design experience across all courses being delivered at HELI. Hence, I could focus on providing further innovation, update, and teaching to enhance scalable connected learning experiences. I am confident that when learners complete the course, they will be able to gain significant knowledge in the below pyramid areas in eLearning.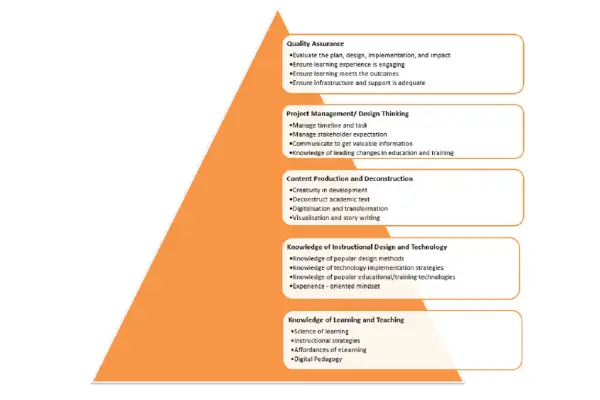 eLearning Skillset – created by Dr Spice Wang
More details of the course architecture and the subject details can be found on the website (NEW HELI COURSE WEBSITE). You'll know we are in a good position to help our learners prepare for future skills in eLearning, especially gaining more confidence in bringing 'technology' and 'education' together to make a real impact in learning.
Yes, we are in a digital age. Online teaching and learning communities have discussed a lot about how technology can enable education in the past few years. We will continue to explore the possibilities and innovations technologies can bring to our lives and future generations. However, now is also a good time not to focus on technology but on evidence-based practices in understanding how learning happens and how education providers build an environment to allow educators to provide differentiated instructions and meaningful learning pathways.
In March 2022, I noticed the Definition and Terminology Committee of AECT issued a new definition for Educational technology : 
 New definition
Educational technology is the study and ethical application of theory, research, and best practices to advance knowledge as well as mediate and improve learning and performance through the strategic design, management and implementation of learning and instructional processes and resources. (retrieved from AECT in March 2022)
According to this definition, educational technology should be focused on research, implementation, resource development, and instructional process (design and delivery). This holistic view shows how a digital learning/educational technology team may lead digital learning initiatives through a strategic plan, design, and management of digital and human resources.
Like the 1994 and 2007 definitions, it still focuses on learning performances, but the word "technology" is not there anymore. I believe this is a just-in-time change. As we see many 'new technologies' emerge in education (e.g. AI, machine learning, micro-credentialing, blockchain, ePortfolio), we need more evidence-based practices and strategies in bringing pedagogy, business, people, and process together, ideally with scalability and sustainability. We will continue to contribute more chaos than a learning solution until we focus on this change.
I am fortunate to be part of this transformation and work with talented people who are experts in higher education, industry, or business leadership. I am also motivated by many learners in my classes who are experts in many domains of education or business and seek further improvement in educational innovation and transformation in the digital age. We learn and embrace the affordance of eLearning together through collaboration and inspiration, focusing on quality, integrity, and future possibility.